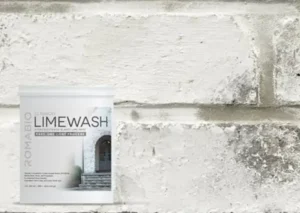 Limewash brick is an old-world technique for giving brick walls, masonry and stone a natural and beautiful finish. It's been used for centuries as a low-cost way to protect your house from the elements. Limewash is easy to apply and will last for many years if properly maintained. If you're looking for something that adds character and beauty while saving money, then limewashing is the right choice!
What Is Limewash Brick
Limewash is a natural product made from lime and water, sand and sometimes pigments. It can be applied to brick or stone, but it does not contain any chemicals.
Limewash is an affordable way to breathe new life into your old stone or brickwork.
Limewash is a wash made from lime, sand and water. Once applied, it dries to form a hard layer that protects the brick or stone from weathering and can help preserve its colour. Limewash is used on many buildings in the UK and Europe, including castles, churches, cottages and barns.
Why You Need To Limewash Brick
You'll be surprised to learn that lime washing brick is an environmentally friendly way to clean and seal your brickwork. It's also one of the best ways to protect your bricks from moss and algae growth, which can damage them over time.
Lime wash can also make your bricks look more attractive--they'll have a uniform appearance and will appear brighter in color than before they were washed with this product.
The Cost of Limwashing Brick
Limewashing brick is a cost-effective way to give your home or business a fresh look. The average cost of limewashing brick is $2.50-$6.00 per square foot, but it may vary depending on the condition of your brick, working conditions, job site condition and access and location factors such as labor costs and delivery fees.
The price will also depend on what type of lime you use for your project; there are many different types available from different manufacturers which can affect how much you pay for each bag or box that you buy! Our favorites are ROMABIO and BEECK
Other Limewash Brick Considerations
Limewash is a natural product, made from lime and water. It's easy to apply and can be used on many types of brickwork. Limewashes are available in different colours, so you can choose one that suits your style or the surrounding area.
Limewash can improve the appearance of old stone or brickwork by making it look cleaner and fresher
Contact a Brick Limewashing Company
Looking for "painters near me" that can Limewash your brick? House painting can be a complex, messy and time consuming effort. Whether you need Brick Limewashing done or other types of house painting or commercial painting we will get it done professionally and effectively. Our professional painters service the greater Fort Worth area including, North Richland Hills, Hurst, Colleyville, Southlake, Keller, Grapevine, Arlington, Saginaw, Lake Worth, Weatherford and Aledo.
Need Professional brick limewash Services?
We Deliver Beautiful Painting Results, drop us a line today for a free quote!