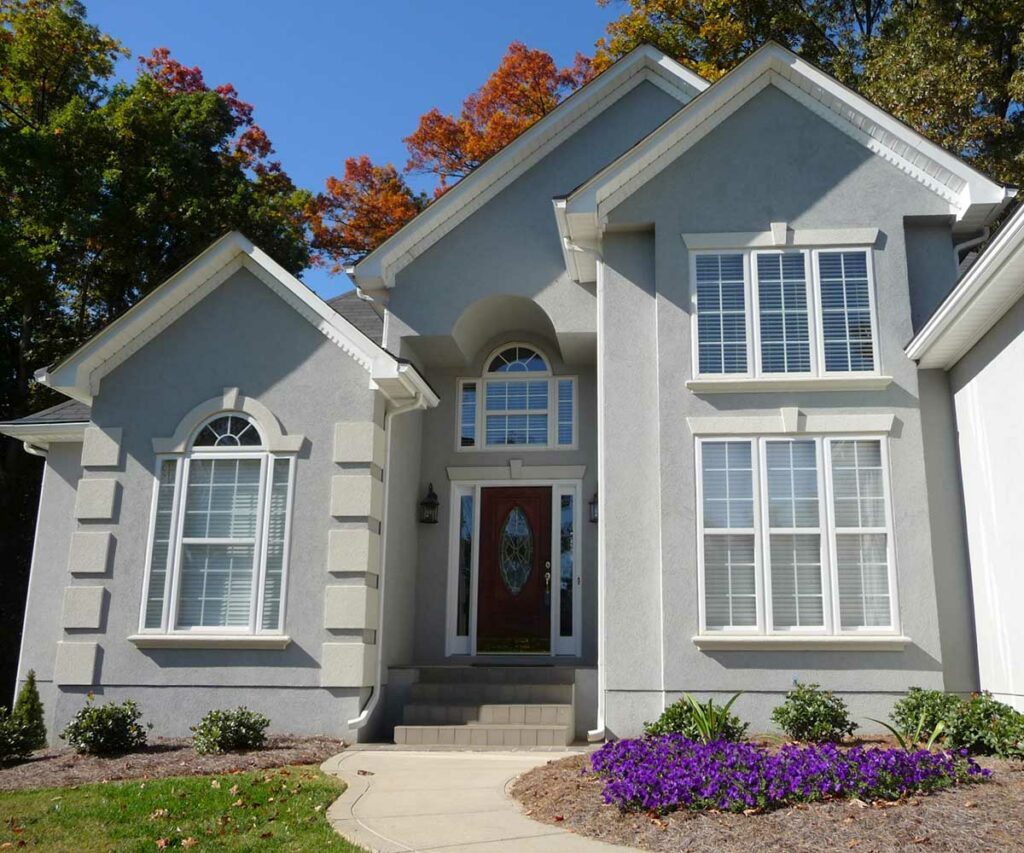 Stucco homes are found all throughout the United States, particularly in the Southwest. The paint colors used for stucco range in shades from natural hues and washed out pink, to blues and custom shades. Painting a stucco home is no more difficult than repainting a home with siding. The most effective paint depends on the condition and age of your stucco, and whether it has been painted before.
Painting New Stucco
If you are buying a new home with stucco or decided to add a stucco exterior to your existing home, new stucco needs to be cured for at least 60 days before painting, but ask contractor for their professional opinion. After the stucco is cured, use a water-based sealant specifically formulated for use on stucco and masonry surfaces. This application can then be followed with multiple layers of water based paint. Some inexpensive paints designed for exterior use are a combination of latex and acrylic, so be sure to get one that is 100% acrylic. This type offers the very best adhesion and retains color better than other kinds. As with any type of paint project, using the highest quality paint will prolong the life of your paint.
Stucco Painted Before
Stucco that has been previously painted should first have all loose paint, dirt and debris removed. A power wash is the best way to prep the surface area. The stucco can then be repainted with acrylic or elastomeric paint. If you are changing from a dark paint to a lighter color, consider using a primer to help minimize any bleed through onto the new coat.
Painting Old, Faded Stucco
One of the most important steps with older stucco that has faded is to make sure and complete all repairs and seal cracks before applying the new paint.  The entire surface should be pressure washed and two coats of acrylic paint or elastomeric paint should be applied. If the stucco seems to be "soaking up" the paint, then add an extra coat or even two to ensure it will stand the test of time.
Professional Painting Advice
Stay clear of all oil based paints for stucco homes. They don't "breathe" like water based paints, and the interior moisture within your home can evaporate into the exterior wall surfaces, deteriorating the stucco itself and peel the paint. Remember that once you repaint your stucco, you will need to repaint it every 8 to 10 years. All exterior paints are available in sheens from flat with satin, semi-gloss and also high gloss. While glossier paints typically last longer, remember they can highlight surface irregularities. Premium quality paints specifically intended for use on stucco and also various other stonework surface areas should be your preferred choice. Also remember that as a result of the significant texture and porosity of concrete stucco, you can estimate around 150 to 200 sq. ft. of paint coverage.
Stucco Paint Colors
Now that you know the process for stucco painting, selecting the right color for your home is the next step. Look around your neighborhood and ask what types of colors are other homes using? If you find one you like (and isn't located next door) then it is a good candidate for your stucco home. Keep in mind that the most popular bold colors of New Mexico will be much different than the most popular colors in the Northeast. The overall top stucco colors across the US are:
Pewter or Putty with off white trim
Pale gray with bright white trim
Warm beige with light beige trim
Natural linen with light trim
If you're unsure of what type and color of paint to use on your stucco home, ask your painter and he should be able to help you choose the right one for you.
Contact a Stucco Painting Company
Looking for painters in the greater Fort Worth area that can repaint your stucco? Exterior house painting can be a complex, messy and stressful effort; hiring a stucco painter will alleviate all of these issues. Whether you need stucco painting done or other types of house painting or commercial painting we will get it done professionally and effectively. Our professional painters service the areas including, North Richland Hills, Hurst, Colleyville, Southlake, Keller, Grapevine, Arlington, Saginaw, Lake Worth, Weatherford and Aledo.
Need Professional Stucco Painting Services?
We Deliver Beautiful Painting Results, drop us a line today for a free quote!