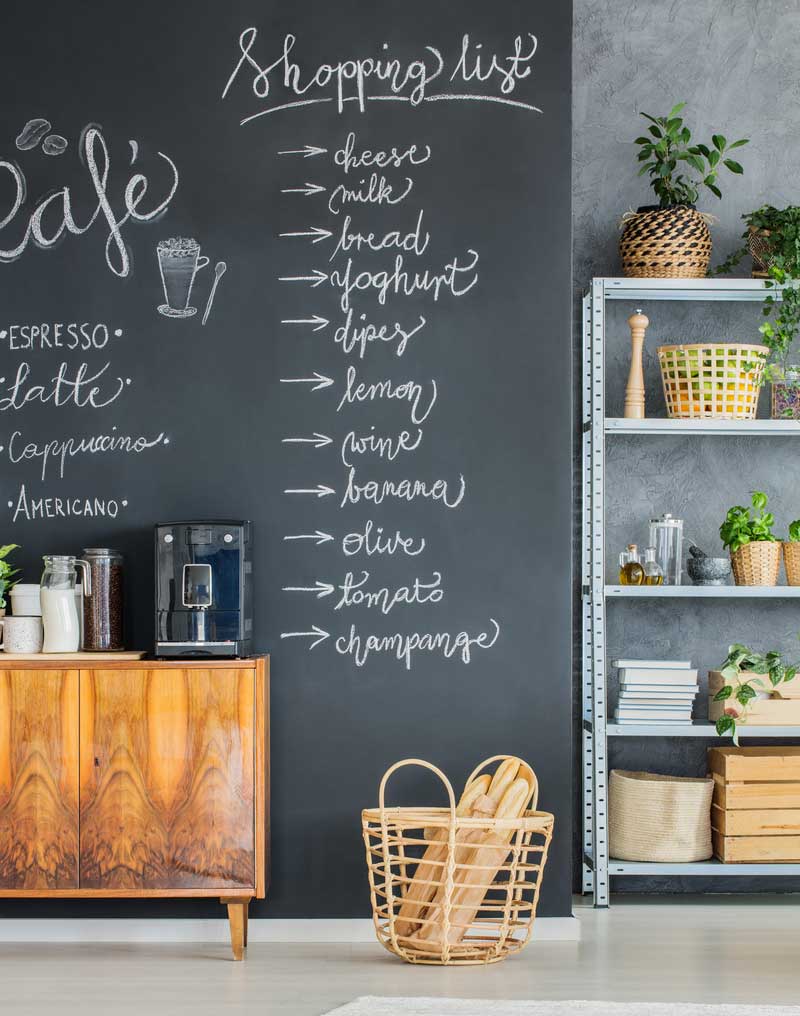 I was recently at a local cupcake show and their entire hallway was covered in what looked to be a giant chalkboard. Kids who were visiting the store kept themselves busy for hours (and their parents happy). Turns out chalkboard paint has many uses and is great for playrooms, kids' bedrooms, activity calendars, schools, offices and to do lists wherever you put them.  Chalkboard paint can be applied to nearly any surface including wood, metal, glass, ceramic and hardboard. The paint creates a smooth, hard surface that is similar to slate so you can write on it!
Chalkboard Paint Benefits
Scratch resistant
Extremely hard
Can be cleaned by erasing or with soap and water
Can be applied to a wide variety of materials
Chalkboard Paints
There are several manufacturers of chalkboard paint including Benjamin Moore, Krylon, Rust-Oleum, Colorhouse and others. While black is the standard color for this application, there are other colors you might consider for your chalkboard, like, green, slate gray, blue, purple, hot pink and even clear.
Chalkboard Paint Application
For larger chalkboard projects it is recommended to hire North Richland Hills painters, Keller painters, Colleyville painting services or Southlake painters for the job. First identify the area you want to paint, whether it is a playroom wall or an entire room. The painters will prepare the surface by cleaning it, filling in any cracks and sand the surface to make sure it is smooth. During the chalkboard paint application, it is important that there are not any bubbles or paint brush marks which is another reason why this process is best left to a professional painter. Allow the paint to dry for three days before using the chalkboard. To help the curing process, gently rub the surface with white chalk.
Other Chalkboard Painting Considerations
If a wall is painted flat then you won't need to add any primer, but if you already have semi-gloss, eggshell or any other finish then it is recommended to add primer before applying chalkboard paint. Another cool thing that you can do with chalkboard paint to make it even more functional is to apply a magnetic base so you can magnets anywhere on your new chalkboard! For an added touch, you can add a ledge at the base to hold your chalk, use a decorative border or molding around it or add squares so it can be used as an erasable calendar. Keep in mind that if you are creating a chalkboard for a child's room, make sure that it is low enough that they can reach the board.
Need Professional Chalkboard Installation Services?
We Deliver Beautiful Painting Results, drop us a line today for a free quote!