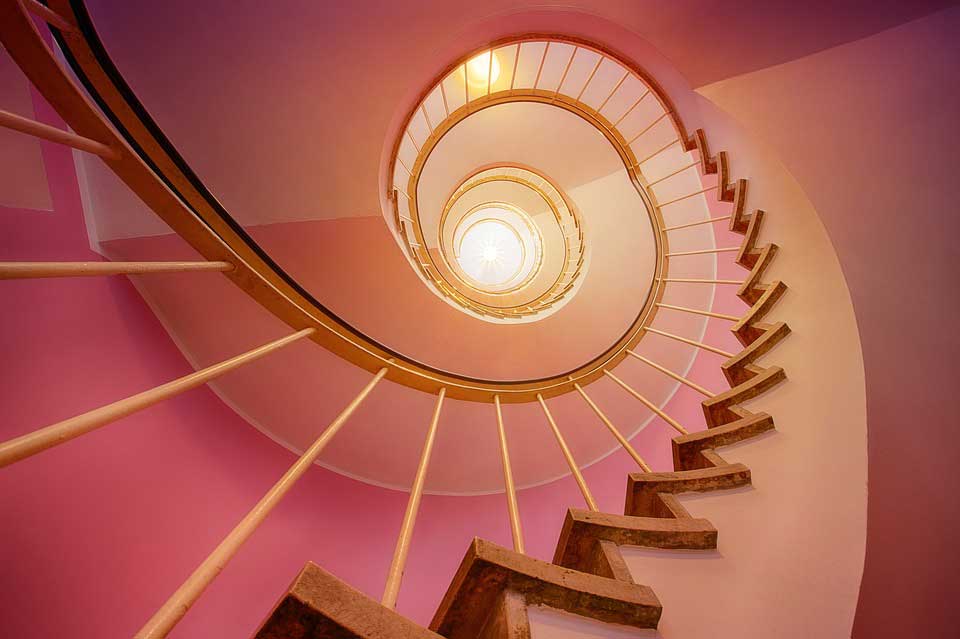 While many people focus on repainting their kitchen, bathroom or bedroom, there are other areas of the home that should be refreshed and painted as well. The stairs in your home should be clean, welcoming and attractive. Adding a new coat of paint will help revive your stairways and make them stand out. Painting a stairway may seem like an easy project, however with the treads, risers and balusters it can be a complex project even for experienced painters. Unlike wall painting or ceiling painting, the intricate design features of stairways should be handled by a professional house painter.
Stair Painting Cost Factors
The total cost to paint your stairs will obviously depend on how high the staircase is, but the average cost for a 12 foot high stairway (straight) would be $375. The surface area of the stairway needs to be properly measured to determine the cost of the project. This is calculated by multiplying the width by the length. In addition to the surface area, the painters must also measure the tread length, railings, stringers and any other items that need to be painted. There are other factors to consider that may determine the cost of your stair painting project which can include:
Paint quality – Better quality interior paints are more expensive
Number of coats – Numerous coats are required with some types of paint and colors
Condition of the staircase – Older stairs that need repair and additional steps will cost more
Complexity – Staircases with multiple landings or unique configurations will impact the cost of the project.
When hiring a house painter, the project will include all of the material costs such as paint, primer, tape, rollers, brushes and other items needed to complete the project. These items typically make up about 15% of the cost of the job. The cost of any preparation work is almost always included in the cost of a stair painting project. Prep work will include sanding; taping all of the walls, stairs, railings and other surfaces; spackling cracks and nail holes; vacuuming cobwebs and laying down drop cloths.
When performing the stair painting, the painters will start with all of the necessary prep work. Next they will repair any necessary items and patch any cracks and holes. Then they will apply a primer and multiple coats of paint to the stair walls, balusters and any other items to be painted within the staircase.
Stair Painting Improvements
The most common improvement for a staircase is repair work. If there are loose boards, broken balusters and loose railings, then they should be fixed to prevent injury. The typical cost to repair a stairway is $45 to $70 / hour. Often times in older homes there may be worn carpeting on the stairs. Making your home look new might require carpet removal which would cost $1 per square foot. If you want to replace the carpet with hardwood or laminate then the costs can vary significantly. If your staircase has stairs made of wood and need to be refinished, the average price to stain and refinish them is around $1.50 / square foot.
Other Stair Painting Considerations
The type of paint used for a stairway will greatly depend upon the type of paint already used in your home. Sherwin Williams or Benjamin Moore oil based or water based paints can be used, however oil based paints tend have a longer lifespan. While the majority of homeowners prefer one color on their staircases, adding a combination of colors can bring new life to a traditionally bland area of the home. One technique is to paint the walls one color and the balusters another to display contrast. Another approach is to paint a mural or decorative feature along the walls to provide intrigue and uniqueness.
Contact a Stair Painting Company
Looking for "painters near me" that can repaint your stairs? House painting can be a complex, messy and time consuming effort. Whether you need staircase painting done or other types of house painting or commercial painting we will get it done professionally and effectively. Our professional painters service the greater Fort Worth area including, North Richland Hills, Hurst, Colleyville, Southlake, Keller, Grapevine, Arlington, Saginaw, Lake Worth, Weatherford and Aledo.
Need Professional Stair Painting Services?
We Deliver Beautiful Painting Results, drop us a line today for a free quote!